University of Florida's Core Values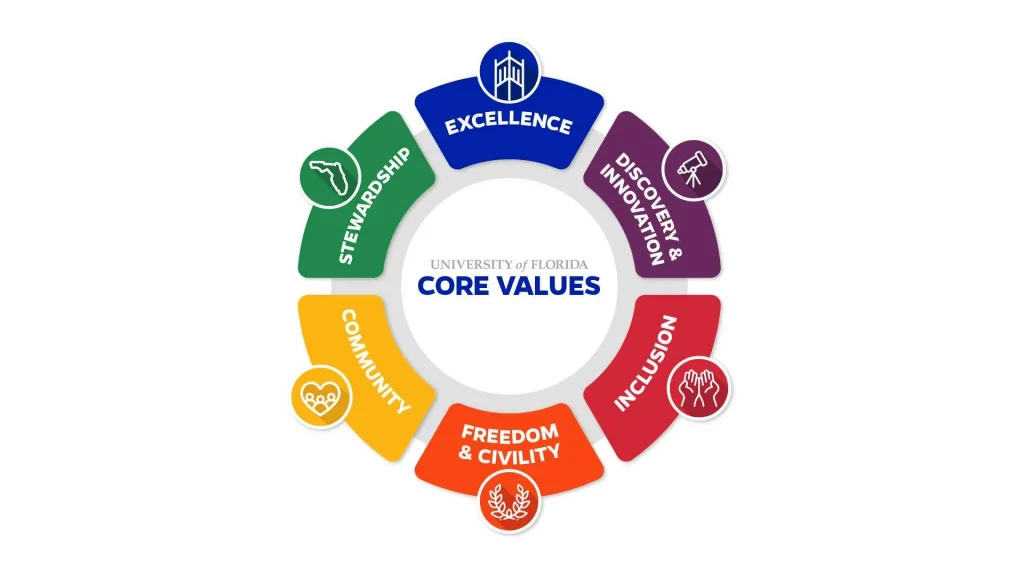 Our Shared Values
In 2015, the University of Florida adopted "The Decade Ahead" strategic plan comprising seven university-wide goals and objectives and one overarching aspiration: That the University of Florida will be a premier university that the state, nation and world will look to for leadership.
In 2020, the university augmented the plan with the "UF Core Values" underpinning its goals and overarching aspiration with six central values. The values were shaped by input from all of UF's key stakeholders to ensure they reflect the diverse UF community.
Learn More About Our Core Values
Browse through the menu below to learn more about each core value.
Strive for greatness as an institution that brings out the best in each individual.
Our standard is to be the best by doing our best. We strive to lead with integrity and distinction in all our endeavors. Excellence requires continuous improvement, accountability, and the courage to recognize that there is always more we can do to deliver the highest quality performance.
Actions speak louder than words.
Find examples of how UF's faculty, staff and students embody UF's Core Values and share how the values are represented in your area or organization.
Civil Discourse in an Uncivil Age. During this event, PBS host Alexander Heffner discussed the effects of divisiveness on discourse, campaigns, and governance as well as the influence of new media, dis/misinformation, and filter bubbles that polarize American society.
Additional Resources
Download the UF Core Values model and iconography, templates, a discussion guide and more here.
For any questions about these resources, please contact hrcommunications@hr.ufl.edu.