About the University of Florida
A Top Public University by the Numbers
Find current stats on enrollment, retention and graduation rates, degrees awarded, diversity, finances and more.
Among America's Best Universities
See what others are saying about Florida in this comprehensive guide to our latest national and international rankings.
Top 5
---
Public University
We rank among America's five best in U.S. News 2022 rankings.
20
---
Top Grad Programs
20 Florida graduate programs rank among the top 20 in their fields.
95+
---
Diversity
Nations represented among students enrolled for fall 2020.
17:1
---
Faculty-to-Student Ratio
Student ratio is down from 21:1 just five years ago.
96.7%
---
Retention Rate
Record first-to-second-year retention rate for 2020-2021.
Meet President Ben Sasse and the teams that lead our university.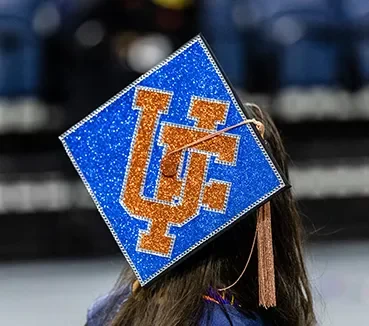 See accreditation info from the Southern Association of Colleges and Schools.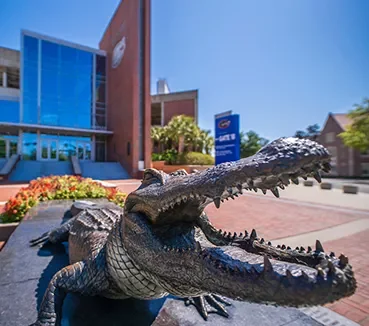 Find maps and other essential info for visiting Florida in-person or explore campus virtually.
Momentum that Drives What We Do
You'll find a palpable energy at Florida, an unmistakable drive powered by place, people, perspectives and purpose. What starts here can change the world—it's happening now.
---
At Florida, we're feeding communities, healing coastlines, exploring space, curing diseases, powering cities, building industries and imagining wonders.
---
Cutting Edge of a Continent
On fertile ground where solutions grow, in sight of two coastlines, Florida offers an unparalleled setting for discovery.
We're an economic and ecological crossroads, addressing the distinct needs of our state while responding to currents from abroad. We feel and see global challenges firsthand but confront them with optimism.
Community of Collaborators
It's this spirit that pulls people to Florida. We welcome anyone who finds joy in discovery and reward the best and brightest with unmatched resources.
Over the past five years, Florida has made transformational investments in faculty and inspired record public and private support. Our ambitious goals and commitment to follow-through have catapulted us to stand among the nation's top public universities.
Collisions at the Intersections
One key to our success: Understanding that breakthroughs happen when perspectives meet.
We unite artists and engineers, physicians and philosophers, entrepreneurs and educators. We distill practical solutions from pure science and apply the lessons of history to contemporary problems. We embrace a diversity of experiences and ideas as the core of our strength.
Intellectual Theme Park
These collisions, this embrace of experimentation, can yield a sense of play. Florida is more than just a laboratory or studio—it's a full-scale intellectual theme park driven by imagination, dreams and ambition.
We're the state's most comprehensive university, a land grant institution with ties to every Florida county, a top academic medical center and much more.
Where Solutions are Launched
At Florida, we're feeding communities, healing coastlines, exploring space, curing diseases, powering cities, building industries and imagining wonders.
The ideas born here gather steam and make tangible impacts. Florida is among the nation's leaders in technology transfer, turning discoveries into companies, products and jobs. Come join us—let's see where we can go together.
Anti-Racism Central Initiatives
Florida has embraced a campus-wide commitment to understand our past, address racism and promote equality, starting with a focus on the Black experience.